Testimonials!
So helpful from the start of this purchase to the delivery!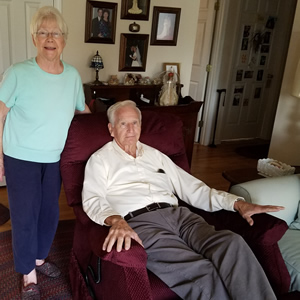 My parents just took deliver of their lift/recliner chair! It is just beautiful!! They are so thrilled with it, words cannot describe. My Dad kept commenting on how well made this chair is & it is made here in the USA! You all have been so helpful from the start of this purchase to the delivery. ... Click to See More
My Dad was having trouble getting in & out of his traditional recliner. So we started to look for alternatives to help him. We called some companies nearby and they would not deliver out to western NC! I found your website and called to see if you could help us. Seeing that you were located in Raleigh NC, I wasn't too hopeful. I spoke to Scott who was very helpful and made specific recommendations since he had the experience of helping his own family member select the right chair. All of his suggestions were spot on.
We did hit a bump in the road with the delivery company but I called and everyone I dealt with at Southern Mobility worked with us to resolve the issues and get this much need chair to my Dad. I am particularly grateful to all the help that Andrew provided in getting a quick resolution and keeping me updated on the progress of the delivery. It was well worth it.
Thank you Andrew & Scott for all of your assistance in getting this chair out to us. We will certainly look to you for future purchases as needed and highly recommend your company to those considering a purchase.
Sincerely,
Leslie M. / Waynesville, NC / October 2017
I call my chair my little miracle!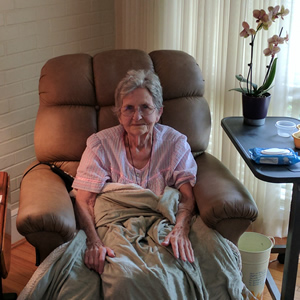 I was diagnosed with stage 4 bone cancer in January this year and have been housebound ever sense. As time has progressed I have grown weaker and find everyday tasks becoming more difficult to manage. Fortunately ... Click to See More a month before my diagnosis, my son had purchased a powerlift chair from Southern Mobility & Medical because I am 84 years old and had difficulty getting up from a sitting position. I call my chair my little miracle because it came to me at the perfect time and it helps me greatly in getting up and down. Since my cancer has made it painful to lay in bed, I have been sleeping in my chair because I can easily change the position to sleep mode. I tell everyone that it is more comfortable than my bed. Because I can use a remote to change the many different positions of the chair, it helps me stay comfortable all day and night.
Thanks to the fine folks at Southern Mobility & Medical, I can stay in my own home and get around without assistance.
Sue H. / Charlotte, NC / August 2017
My outlook on vacations has completely changed!
I was diagnosed with Parkinson's Disease about 8 years ago. My husband and I are big fans of Disney World and Disney Cruises. My ability to walk, especially for long distances has been impacted. I began to dread these vacation that I had always loved. We decided to ... Click to See More buy a scooter to see if that made a difference. Now my outlook about these heavily walking vacations has completely changed. Disney makes it so easy to use their transportation system with a scooter.
The scooter we decided to purchase automatically folds and unfolds with the remote control and fits in the trunk of the car. Every time I fold or unfold it, someone asks me all about it-cost, where I got it, and the name and model. After this happened several times, I had an idea! I asked my salesperson to send me some of his business cards with the name of the scooter on the back. Now when someone asks about the scooter, I just hand them a business card. In the past 6-8 monthly I've given out approximately 12 cards.
The reason I selected Southern Mobility was they were the only ones I could find that would allow me to test drive the various similar models. I am so glad I had that opportunity!
Arline G. / Greensboro, NC / September 2017
I can now get around the house and my back deck!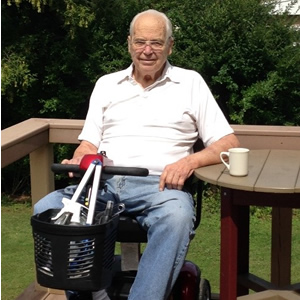 The scooter I had needed to be replaced and Andrew asked many detailed questions to determine my needs and supplied me with just the right scooter and lift chair. Without my new scooter, I would not be able ... Click to See More to get around the house or get to my back deck to enjoy a cup of coffee and fresh air. I am also able to play my organ because I can pull right up to it - the same with the kitchen table. I am able to position the scooter up to the table to eat meals without having to transfer to a chair, which with my legs being weak takes a lot of energy. It was also getting very difficult to get up from my recliner, and the zero gravity lift chair made it so much easier to get up to a standing position. It is very comfortable to sit or lay in with all the adjustable positions you can make to the chair. I can't thank Andrew enough for his help and knowledge, it was very much appreciated!!
Sincerely,
Claud H. / Rochester, NY / September 2017
Excellent!
My husband had double hip replacement surgery 4 weeks ago. The lift chair was the best decision we have made besides having the surgery. Andrew delivered the chair to our home and clearly instructed us how to use it. He is so polite! Considering the recovery time for hip replacement, this chair is a must have. During the first 2 1/2 weeks my husband was much more comfortable sleeping in the chair rather than the bed as it kept his feet elevated properly. I truly believe this chair helped speed up his recovery. Thanks Andrew and Scott!
Andy and Lori B / Troutman, NC / December 2018
Very Helpful and Fast Service!
Southern Mobility had the exact wheelchair that was recommended for my daughter by the caregiver staff at our MDA Care Center. We needed one that could be carried by her vehicle and the Jazzy chair fit the bill. When I asked the sale representative and later, owner to support the Facioscapulohumeral muscular dystrophy (FSH) Society's Walk and Roll in Cary, they not only supported it, but made sure that my daughter's chair was procured and delivered before the event. I'd have to say that the service and community support by Southern Mobility has been fantastic. I would recommend them to others.
Dr. Raymond A. Huml / Raleigh, NC / October 2018
Exceptional
It is not easy to cope with the realization of "I have to have a wheelchair, a walker, physical aides because I am no longer able". Good equipment, sound equipment is of course essential to keeping us safe. Southern Mobility of Raleigh is a great place to go for those needs. What is exceptional about Southern Mobility of Raleigh is the how they understand the real effects of aging and loss of mobility can have. They approach each customer with respect, dignity, caring. They have a sense of responsibility for their customers well-being not just during the sale but for the long term. It is almost impossible to describe how fortunate we feel for having found them. We are grateful they have brought us into their circle of care.
John and Leslie G. / Raleigh, NC / April 2018
So Happy!
Scott met with me on Saturday to pick out a new scooter or power chair. I had a scooter and had worn it out so really wanted a power chair that was easy to travel but was afraid I could not learn to drive it. Scott suggested the exact one I have been wanting for a year. Once I started driving it I knew the lite rider envy was the power chair that would fit my needs. It's small, large battery, easy to drive and zippy. It's zero turn. Turns in such a small space. Much smaller than the scooter. I choose a scooter 3 years ago because I couldn't except I was handicapped (left leg parilized) now I just need the smallest power chair possible to do the job. I love my new Lite Rider Envy Power Chair and I loved working with Southern Mobility in Raleigh, NC.
Tamara B.
Wonderful help from Andrew!
My Aunt has been a diabetic for many years, and now recently is suffering from increasingly poor circulation in her lower legs, resulting in a great deal of pain and swelling. Her doctors have been worried about ... Click to See More potential loss of limbs, as have I and the rest of our family.
We thought we could get Medicare help with getting a special chair so that she could rest and/or sleep comfortably, but found out none was available. My funds being limited, and the rest of the family's too, I took the chance of checking out your website. With Andrew's very skilled assistance and compassionate guidance, we found a chair that was perfect but could not afford.
Andrew called me back to inform me that this model had been put on an Open Box special and that the price was substantially lower, plus the wide seat and fully reclining, bed-like position Aunt Mildred needed was all there. Our family huddled again, and Andrew helped me to lock down this sale Brisa chair!
It was delivered to my Aunt and Uncle yesterday at noon, and they LOVE it!! In fact, my Uncle and one of my cousins did a little "remodel" to the living room and they are spiffing the room up; they are so happy. I went to see the remodel (and the chair) this morning and WOW!! All I can really say is, from the bottom of my heart: Andrew and your company have saved my Aunt's legs, and made me and our family cry true tears of joy.
Andrew is a very kind-hearted and dedicated man. He did everything he possibly could to help me, and he succeeded.Andrew even said he would fax the Doctor a form which would enable me to get the sales tax refunded, which helped me even more, financially. I will be recommending Andrew Bayard and Southern Mobility to all of my friends in need of your products from here out.
Thank you, both, again, and with my sincerest and warmest regards,
Julia B. / Greensboro, NC / April 2017
No More Back Pain!
My mother had been complaining about back pain for the past few months. Her Doctor could not find a direct cause. At the age of 83 she also began to find it more difficult to get in and out of her favorite chair. After much research, I found ... Click to See More Southern Mobility had the best options and prices for a new chair that could help her. Scott Dannenberg worked with me to understand my mother's specific issues and her budget before recommending the Golden MaxiComfort Cloud Sleep'N Lift Chair. It was delivered and set up within the week by a knowledgeable technician who made certain that the chair was fully operational and that my mother was completely satisfied before he left. We also have had follow up communications from Southern Mobility to make sure we are happy with the chair and their services. It has only been a week and she has no more back pain. Thanks to Scott and the team at Southern Mobility for the spot-on recommendation and fantastic service.
Jim Huffstetler / Charlotte, NC / January 2017
Forever grateful: Superb chair, but nothing tops the help and guidance from Andrew and Scott.
My dad was flooded out in Baton Rouge and came to live with me on short notice having lost everything. He is 94, arthritic, nearly blind, and diabetic with all the accompanying leg and foot problems - and pretty much lives and sleeps in a recliner. So I had about three days to become an expert on ... Click to See More recliners and get one delivered to a small mountain town on a winding hilly road. After a day plus googling and looking and thinking I knew something I was about to punch buy. But then I talked to Scott and Andrew at Southern Mobility and found out how off target I was - something comfy to watch TV in is not what my dad needed at all. Thank goodness I chanced on these great fellows who saved me from disaster. Plus they actually put the chair on my doorstep in 24 hours - and not without some serious effort and engagement. The chair is fabulous and works flawlessly. Forget figuring it out - call these gentlemen, spell out what you need, and trust them.
John Luzena / Pisgah Forrest, NC / December 2016
Very Pleased
I had been looking for several months for a narrow lift chair/recliner that would fit in my Dad's nursing care room. I got lucky and found just the chair on Southern Mobility's website. I called and spoke with Andrew about the chair and delivery. He was ... Click to See More well informed and helpful throughout the whole process. Andrew met me at their warehouse, explained the simple assembly and helped me load the chair into my station wagon. The chair is just right. My Dad was grinning and happy with his new chair. I couldn't be more pleased.
Jim Barefoot / Winston Salem, NC / November 2016
Lift Chair
I ordered a chair to be delivered and added the white glove service. I was called by Andrew several days later and he told me there was no one in my area that could do the white glove service. We talked about ... Click to See More other options as I am 70 and handicapped and unable to take the chair from the curb to the house. He explored several options but none worked. He asked for another day and when he called, he had found a company they had dealt with in Houston that would do the job. He looked back in their files for the last 3 years to try to help. I have not received the chair yet but am very appreciative for his outstanding help to get it delivered and set up. Looking forward to receiving my chair. Thanks so much Andres for going above and beyond to help me.
Joyce B / League City, Texas / July 25, 2016
Fast Delivery!
We contacted southern mobility to find a chair for my mom. Andrew was very helpful. I told him what we were looking for and that we needed it really fast this was on a Friday. After using the website ... Click to See More mom selected the chair she wanted and the color. John and Andrew showed up on Monday afternoon with a beautiful lift chair with a simple remote.. That is one happy lady. she can get up and down by herself with no help at all. she was shown how to operate the chair and is good to go.. thank you for a wonderful chair and a great experience with southern mobility.
Joanne H. / July 18, 2016
Love it!
I want to let you know how much I love my scooter it is a GOD sent to me and very easy to handle. It breaks down just as described and it takes no time to assemble and disassemble. Now I can ... Click to See More get out of the house more and go to the mall or just around the yard if I want. Thank you so very much and I want to give Andrew a special thank you. He helped me from the very beginning and up until I got it delivered at my door. I would recommend your company anytime.
Kim A. / Mount Olive, NC / June 24, 2016
My Dad keeps saying that Santa Came!
"My Dad can now ride around his yard all he wants. Before the LiteRider he was so limited. The staff at Southern Mobility listened to his needs, sent him options and made ordering and set up a snap. Thank you."
Carlene K. / Washington, NC / June 17th, 2016
Best Company I Have Used
"Southern Mobility is the best company I have used for my durable medical equipment. I have gotten two electric wheelchairs and a scooter. They worked with me to get my insurance through very quickly. Recently, Andrew helped my find a scooter to perfectly fit my lifestyle, weight, and abilities. He was extremely informative and easy to get ahold of. He helped navigate the new generation of scooters and the one he suggested is a wonderful fi t. I will definitely use Southern Mobility for any future needs."
Jennifer L. / Newport News, VA / June 9, 2016
They continue to impress me
"I've worked with the folks at Southern Mobility and Medical for a number of years now and think they are a great group of people. Their staff is friendly and are always quick to get back to me whenever I've had questions. They take their work seriously and are always very professional over the phone and in-person. Have recommended them to several others in the past and will definitely continue to do so."
Greg S. / Apex, NC / May 17, 2016
Wonderful
"The folks at Southern Mobility are wonderful and very caring. They listen to your needs and help you determine what type of product may work best for you. They are not pushy at all just very helpful! They were willing to meet me on the weekend because that worked best for my family. The products they sell are top of the line. I highly recommend them!"
Bridget A. / Timberlake, NC / May 13, 2016
Love my Scooter
"Received my new electric scooter on 4/29/16 and am very satisfies with it. Had one similar to it that lasted nine years. Although I had placed my order the week before, their rep. Andrew went above and beyond to keep me informed on it's progress, nearly on a daily basis he would call me. The manufacturer / supplier of the scooter had a mix up on shipping but it was no fault of Southern Mobility. I would highly recommend this company."
Mark M. / Kernersville, NC / April 30, 2016
Very Comfortable
"I purchased the Serta Lift Chair. Very comfortable and the operation is smooth and steady. Customer service with the company was excellent. Highly recommend this company. Thank you!"
Charles P. / Winston Salem, NC / April 20, 2016
Referring you guys to all my friends!
"I would gladly refer anyone to you that needed medical equipment or your services. Great staff and even better experience. You have made this process simple for me."
Ethelene F. / Burlington, NC / February 23, 2016
Excellent
"Staff and equipment are excellent. Staff gave many options, and were complete in explanations and very knowledgeable. Would highly recommend!"
Jeff K. / Fuquay Varina, NC / February 19, 2016
Awesome
"Extremely satisfied! Southern Mobility met all of my needs and it was fast."
Nichole N. / Newton, NC / February 17th, 2016
I love the chair
"I am very satisfied with Southern Mobility and Medical! The staff was great and I love my new chair."
Kenneth S. / Killington, NC / February 17, 2016
Awesome!
"We are extremely satisfied with Southern Mobility and Medical. Y'all were awesome! So grateful for all your help! We are forever grateful!"
Cathy M. / Fayetteville, NC / November 3, 2015
Very Impressed
"I am very impressed with your company and can't thank you enough for helping me to get a power chair. I have recommended you to others and will continue to do so. Thank you so much."
Janice / Paint Lick, KY / October 20, 2015
Exceptional
"Exceptional service. Scott helped to choose the right power chair and John did a great job of delivering and explaining the operation of the chair. I'm so glad I was told about you!"
Elsie / NC / October 20, 2015
Thank You!
"This is simply a thank you for my husband Tony who's wheelchair needed work. You worked with his insurance and sent someone out immediately. Thank you so much, you guys are awesome!"
Connie L. / NC / August 21, 2015
Thanks
"Thanks for the help to be able to be mobile and being really nice + friendly."
Lexington, NC / March 23, 2015
Thank You so much
"Thank you so much for your time and help in getting my powerchair. You have been a great resource and a great well of kindness as we move forward in our new life. Thank you"
Gary / NC / January 14, 2015
Great Customer Service
"I would recommend Southern Mobility over any other company, like yours, out there. Excellent! Great Customer Service!"
Jeff / NC / September 27, 2014
Power Chair Service
"Yesterday afternoon I met with a mechanic named John to review operation of the chair I purchased. John was very professional and did an excellent job. He was very helpful and seemed to really know the equipment. Thank you for leading me through this transition. I am not pleased that I find myself in a situation where I need the chair, I will say that you and your staff have made it a little easier."
Ron / NC / June 18, 2014
Great Staff
"I am very satisfied with my experience with you guys! Jennifer is the one I dealt with, she is an excellent employee. She knows her job, I was very happy with her."
Paulette / Kannapolis, NC / December 12, 2013
From a daughter's point of view... GREAT!
"From a daughter's point of view, you guys are GREAT! My mother and I were both treated with the up most respect, and all your people were helpful and very patient. A lot of companies that deal with elderly people don't spend a lot of time on patience and respect. Thank you!!"
Anne / Rocky Mount, NC / November 11, 2012
Saying Thank You is an Understatement
"Southern Mobility,
Saying "Thank You" is definitely an understatement! It turns out that the chair I contacted you about was in "sleep mode" and took moving the joystick back and forth to get it to "power up". I really do appreciate you taking the time to consider my issue. As I said before, I didn't purchase my chair from you but I definitely keep you in mind for parts, service, and future purchases. I believe that when a company does a person right, it needs to be spread out. I WILL tell others of your GREAT response and customer service. Again, another heartfelt Thank You."
Johnny C. / Trinity, NC / November 10, 2010