Solax Transformer - S3021
Product Videos
Solax Transformer - One of a kind Auto-Folding Scooter!
01:18
Get yours today at Southern Mobility! 800-681-8831 Raleigh: 1829 Capital Blvd, Ste 107 Raleigh, NC 27604 Concord: 10099 Weddington Rd Ext. Ste 116 Concord, NC 28027
Solax Transfor...

Get yours today at Southern Mobility! 800-681-8831 Raleigh: 1...
Solax Transformer - S3021
Key Features:
YOU MUST WATCH THE VIDEO BELOW! Use a remote button to automatically set up or fold down your scooter! This is awesome and the ONLY scooter on the market like it! Yellow, Red, Blue or Black, 300 lb weight cap and only 54 lbs!

Product Description
The Transformer is the ONLY fully electric folding scooter in the USA. There is nothing else like it on the market. Offering Remote Control operation for opening and closing plus manual if required. The Transformer has a 300lb weight capacity and comes standard with a lightweight Lithium battery (13.5 Miles on a single charge).
Features:
NEW Adjustable Tiller (Allows the tiller to be adjusted forwards and backwards)

Colors: Red, Blue, Yellow, Black. Perfect for Car or Cruise Ship travel.

Dimensions Folded Up: 18" W, 18" D, 24" H

Remote Control

Fully Automatic Folding & Unfolding

Ultra Portable

Perfect for Aircraft & Cruise Ships

300lb Weight Capacity

13.5 Miles on a Single Charge

Lithium Battery

Click Here for Transformer Battery MSDS (Paperwork approving battery for Airline Travel)
How to Sync a Remote on old style Transformer (there is a manual release lever on the tiller)

Watch the video below for Syncing the Remote on new Style Transformer (No manual release lever on the tiller)
Specs: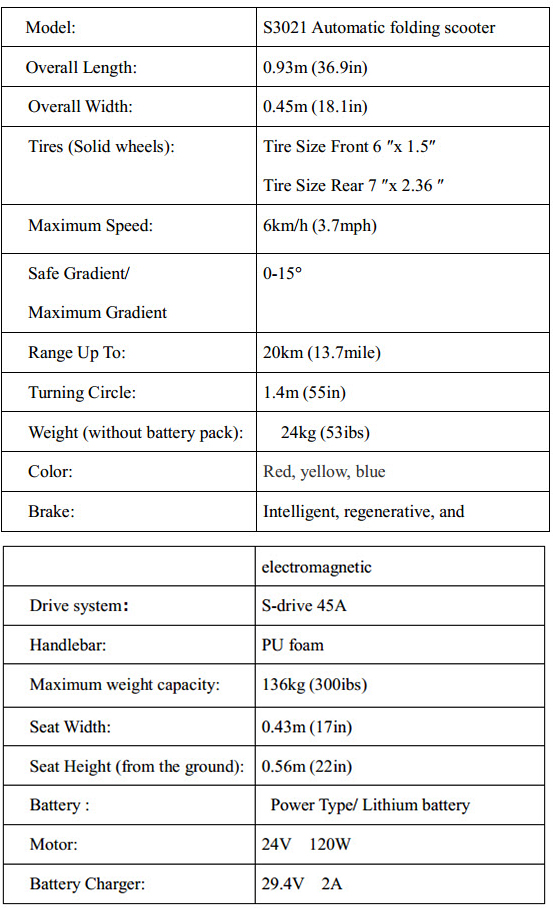 Product Videos
Solax Transformer - One of a kind Auto-Folding Scooter!
01:18
Get yours today at Southern Mobility! 800-681-8831 Raleigh: 1829 Capital Blvd, Ste 107 Raleigh, NC 27604 Concord: 10099 Weddington Rd Ext. Ste 116 Concord, NC 28027
Solax Transfor...

Get yours today at Southern Mobility! 800-681-8831 Raleigh: 1...
Warranty Information
Electronics: 2 Years
Battery: 1 Year
Frame: Limited Lifetime

Other Details
Price Range:
$2500 - $3000
Overall Weight Range:
50lbs - 100lbs
Weight Capacity Range:
200lbs - 300lbs
Weight of Heaviest Piece Range:
50lbs - 75lbs
Find Similar Products by Tag
Product Reviews
A great scooter, light weight and portable! A winner!

Posted by Lori Ann F Selch on Dec 18th 2019

We were recommended this scooter by another one of your satisfied customers. Lighweight, portable and exactly what I need for cruising and for gaining mobility. I suffer from multiple medical problems and I know this scooter will be a great help to me. I would give this product 5 stars except for the fact that the turning radius is not the best. But it is sturdy and well made. I look forward to many years of service. thanks Solax for making a great product.

Independent Again!

Posted by Unknown on Dec 4th 2019

Purchased my Solax Transformer about a week ago and I am so happy I did. I had reached a point where I could no longer go out shopping or go sightseeing on trips because I couldn't do the extended walking. Now I'm able to go into any store, not jut those few that offer electric carts, and I'm looking forward to our next trip because I know I'll be able to do the things I had been missing. I love that I can just use my remote to fold up the scooter and then the same to unfold it. The scooter has a speed setting and I've tried several different speeds. The fastest speed is a little too fast for my liking, but did come in handy traveling across the parking lot at one store. We spent some time at the showroom at Southern Mobility, trying different scooters and discussing pros and cons of everything. Andrew was so helpful, so knowledgeable, and so very patient with us as we tried to decide which scooter would work best for me. We also purchased the docking station because we didn't want to have to bring the scooter inside every time we needed to charge the battery. The docking station is much more convenient, just pop out the battery when we come inside and put it in the docking station. The following morning the battery is charged and ready to go.

Great scooter....Solax Transformer Rough vender (Solax)

Posted by Steve Stemmler on Aug 21st 2019

I've driven it in 4" of snow..hard to stop this very portable scooter...
It's my second, under warranty replacement....
The service guy was awesome... The scooter is great... But to get help you 1st have to get past the front desk and she was no help....
I wanted something a little faster and was looking at the solex trike ...
But they stopped me from extending my warranty (probably cause I was labelled a bad customer when I demanded a new one) when they couldn't fix my1st one...
So I aborted buying the trike and got a Zinger instead...
Again love the transformer a lot....but solax barring me from ext. warranty.....actually told me no.... Um.... don't feel comfortable when needing their help..
So... if wanting long term coverage.....many better options.... Not because of the product.... It's a great product....
Hope this helps


Totally changed my life!!

Posted by Heather on Jan 29th 2018

After 3 back and neck surgeries I was at the point were I couldn't walk very far without ending up in excruciating pain. I was spending most of my time in bed because that was the most comfortable place. I was completely disconnected from the lives of my teenage son and husband. I had to stay home if they went anyplace that I had to walk around at because my mobility was so limited. My husband started researching scooters and found the Solax Transformer online at Southern Mobility. It was compact, light weight, yet went far on a battery charge. I was able to go to the showroom and see all of the scooters on display. I wanted a scooter that was small enough to fit in our trunk and light enough that my son could lift. The sales person was great in pointing us to the Transformer. He demonstrated it to us and answered every question we had. I was able to take it for a test drive not only around the store but also outside around the parking lot! Since I got my Transformer my life has totally changed for the better. I am able to go out with my family and do things I haven't done in years. The first stop with my new scooter was the mall! It is very compact and easy to maneuver around stores. I'm now a part of the family and my mobility is no longer limited. It folds up easily with just the touch of a button and I'm on my way! I am so excited to take my new scooter everywhere we go!

Excellent Scooter

Posted by Unknown on Oct 26th 2017

Both my wife and I are pleased with the Solax Transformer. She has the improved freedom that she wanted and needed and I have the ease of load/unload and transporting in our SUV. The scooter is what we wanted but was a bit disappointed with the manual. The fold/unfold control buttons were reversed from actual as well as a couple of other discrepancies. Manual is a perfect example of one does not fit all. The manual should match the specific model. Southern Mobility & Medical was a great place to shop and Andrew answered all our questions and more. When I found the fold/unfold controls reversed, I called to be satisfied that all was OK and no more surprises and my questions were answered with a quick conversation with Andrew.

Mobility scooter

Posted by Bob on Apr 14th 2017

The Solax seems to be a good fit for my needs. Andrew did an exceptional job.

A great product. If you try it, you will buy it..

Posted by Irving Ruppel on Mar 2nd 2017

Unit is as advertised and more. Made very well. The folding and opening are perfect. I've only drove it in house and it is great on carpet or bare floors. Very easy to transport like a suitcase, folded.
Instructions are fine but are often in China.. English.. No problem,.. Actually kinda funny.
So far it's Exceeded my expectations.
Good work SOLAX!!!!


everyone should get one of these that cant walk

Posted by pam Bachtel on Oct 7th 2016

this is the best thing for traveling on airplane....so easy and convenient

Solax Transformer gave me freedom

Posted by Kim Jenkins on Aug 31st 2016

I can walk for short distances but when it comes to grocery shopping, walking through the mall or walking my dogs--it is impossible. My good friend gave me an older Electric Wheel chair (which I used until it wore out) but the the Wheel chair was heavy!!!!!!, hard to transport without specialized equipment and the battery life was short. After much research I found the Solex Transformer. It is powerful, actually gets my dogs into a trot, easy to maneuver, and only weighs a little over 50 pounds. It will fit in any vehicle with ease, as it folds to the size of a medium large wheel suitcase. It is very powerful, and the battery seems to last and last. I take it everywhere--it is so easy to travel with--no special equipment, just push the remote and it is folded ready to be placed in your vehicle. The only downside is people stare and ask lots of questions about this wonderful and freedom giving scooter!

Solax Transformer is great!

Posted by Unknown on Jul 28th 2016

I really like my Solax Transformer. It rides very smoothly and the battery lasts a long time. It is quick, too. I wish it wasn't so heavy and that the remote made sense. The scooter is Chinese and the badly translated manual is off putting, as is the confusing remote. But the quality is superb and the weight limit is generous. The turning radius is good and it is comfortable.

Customers also viewed
$3,499.00 $2,824.00

$3,599.00 $2,250.00

$2,729.00 $1,999.00

$1,799.00 $1,299.00